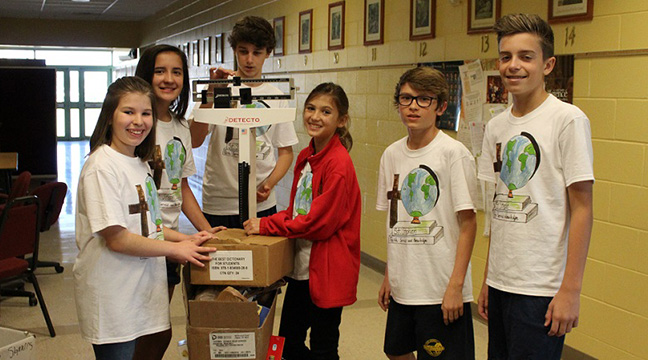 2018-19 St. Stephen Catholic School Advisory Board MembersTitle
Linda Umoh
School Principal
Gina Robles
School Assistant Principal
Fr. Dermot Dunne
Pastor
Fr. Tim Williford
Parochial Vicar
Cynthia Pritchett
Al Larson
Gregg Huff
Paul Spinler
Jennifer Bernardo
Doreen Doyle
Kristy Porter
Ted Russell
Pastoral Council Liaison
John Ross
Representative from the Church Finance Committee
Ted Russell
Ted Russell joined Saint Stephen Parish in the Summer of 1998. He, his wife Lori and three children moved to Valrico pursuant to Ted's military assignment at MacDill AFB. Ted retired from the Army in 2001. After serving on active duty, Ted pursued a second career in the financial services field for 15 years - ultimately retiring in the Spring of 2016. All three children have settled in the Tampa Bay area, and Ted and Lori have been blessed with a beautiful granddaughter. As members of the parish for nearly 20 years, both Ted and Lori have been actively connected with many ministries. Ted currently serves with the Knights of Columbus, the Men's Club, is a lector and a catechist for the RCIA program. As a member of the Parish Pastoral Council, Ted currently serves as an active liaison to the Saint Stephen School Board.
Cynthia Pritchett
Cynthia Pritchett is the strategic planner for the Near East South Asia Center for Strategic Studies and serves as their Liaison to U.S. Central Command in Tampa. Cindy is responsible for planning, coordinating and synchronizing the Center's annual program plan consisting of over 50 events in support of Department of Defense objectives. She retired from the Army in February 2010 after over 36 years of active service as a Command Sergeant Major. Ms. Pritchett serves in the following professional organizations: first Vice President on the Board of Directors of the Army Women's Foundation; Park's Military and Public Service Advisory Council; the Veteran Women Igniting the Spirit of Entrepreneurship (V-WISE) Advisory Council and the St. Stephen Catholic School Advisory Board. She served for two years as a board member for Tampa Crossroads which oversees programs that provides assistance to veterans. Cindy has a Master of Science in International Relations from the Troy University.
Al Larson
My family and I have been parishioners at St. Stephen since 2005. My wife Jamie and I have three boys. Kyle and Andrew are graduates from St. Stephen School and Jacob is currently in 7th grade. I work at Spectrum Reach where I am a Business Account Manager. My department produces commercials for local businesses across the state of Florida. My hobbies are leading retreats, bible studies and teaching the Catholic faith to the youth. I also enjoy going to Mass, spending time with my family and coaching my sons' sports teams.