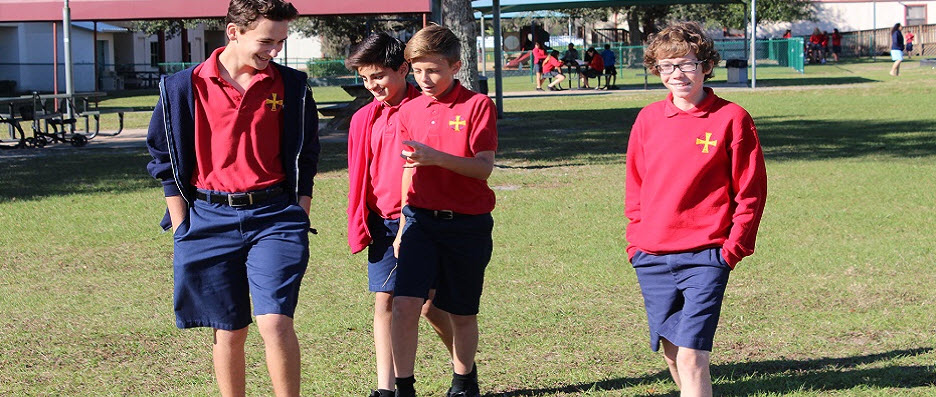 The Extracurricular Activities offered at St. Stephen develop a student's interests and help build solid relationship skills. Participation in club activities allows for learning experiences in time management and planning as well as the importance of a long term commitment. The experience also allows students the opportunity to contribute to the school of their time and talent.

The Activities Available Include:

SSCS Morning Show
Website - https://sites.google.com/sscsfl.org/morningshow/home
St Stephen is proud to have been the first in area schools to broadcast on their school network direct to classrooms. Fully student directed and produced, the Mustang News @ 8 team works tirelessly to provide our school with up to date news and announcements. The crew also visits a professional newsroom each year to learn about possible careers in journalism and broadcasting.
The SSCS morning news show streams live every morning on the school's YouTube channel. Check out our latest show: SSCS YouTube Channel
Show Choir
The Saint Stephen Catholic School Show Choir is a club for students who desire additional musical training and performance opportunities. Students are offered parts such as solos, duets, ensemble singing and acting at SSCS concerts. The choir is open to students in grades 4th through 8th.

Drama Club
The St. Stephen Drama Club is a club for students who are interested in various drama games, activities, and techniques. This is a great club for future aspiring actors and actresses or for those students who would benefit from gaining some performance and presentation skills. The club is open to students in grades 3rd through 5th.

4H
4-H Youth Development Program (UF/IFAS Extension) uses a learn-by-doing approach to help youth gain the knowledge and skills they need to be responsible, productive citizens. This mission is accomplished by creating safe and inclusive learning environments, involving caring adults, and utilizing the expertise and resources of the University of Florida and the nationwide land grant university system." The program encourages diverse groups of youth to develop their skills and talents to the fullest. As 4-Hers, youth actively participate in activities, events, competitions, and projects that develop and strengthen life skills. The 4-H group is open to all students from grades 3rd through 8th.