The faithful community of St. Stephen Catholic School pays homage to St. Stephen for his life of teaching, caring for the poor, and being the first disciple of Jesus to receive the martyr's crown. Students of St. Stephen Catholic School strive to emulate his strong faith and good deeds in their everyday activities. Courtesy, good manners, integrity and meaningful values are part of the life experiences of the students of St. Stephen. The school environment stresses responsibility, self-awareness and a commitment to continuing Jesus' mission on earth through good works. As St. Stephen's life was connected in a special way to the life and teachings of Jesus, so too are the students of St Stephen becoming disciples of their faith.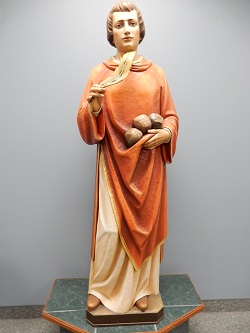 Daily prayer is a normal part of the school day at St. Stephen Catholic School. Faculty and staff teach and model prayer in times of sadness and difficulty, as well as times of joy and success. Communal prayer reminds students that they are part of a faithful community supporting each other in devotion to Our Lord. Spiritual time provides students with an opportunity to become closer to Our Lord as well as provide a respite in their ever-evolving world.

Every week, students participate in the celebration of the Mass, the ultimate community prayer, and the Sacrament of the Eucharist. This celebration is shared by the student body, with their teachers and the parish priest. Parents and family members are encouraged to participate.

Traditional Catholic devotions are shared, and spiritual enrichment programs are offered: praying the rosary, reading the Bible, singing hymns, liturgical events, school retreats, May Crowning, and altar serving. The curriculum includes religion classes centered on the teachings of the Roman Catholic Faith. Children are taught how to live as disciples of Jesus and are inspired by the Word of God. Preparation for the Sacraments of Holy Communion and Confirmation are provided during the school day.